Have you seen some of the Sunday School and Small Groups wearing new Due West UMC Name Tags? Do you wish to know the folks you sit with at church every week but have been too embarrassed to ask their name? We hope you will take the initiative to order a name tag and wear it each week. They are only $10 each.
We're all looking for community -- a place to fit in, a place to get to know people, a place to connect! Small groups are relational groups designed to promote community, friendships and spiritual growth. Small groups at Due West United Methodist Church are always open, meaning you're never too late to join!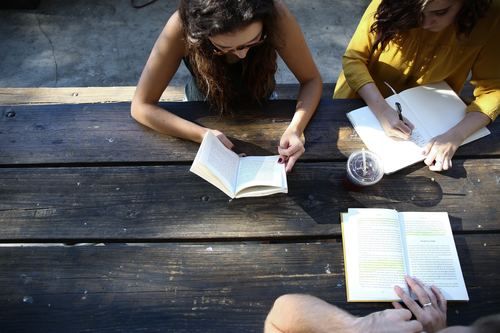 We have several Sunday School Classes. During the COVID-19 pandemic, some of the classes are meeting via ZOOM, some are meeting outdoors, and some are meeting on alternate days in the South Campus Sanctuary. Below is a list of our offerings, and their usual classrooms. If you are interested in more information, or to find out when and where they are meeting, please contact the class leader.
Providing a ministry for building men spiritually and involving them in the total ministry of our Church.
There is an enormous amount of strength that women gather from being around other women. It is a blessing to have the love, support and council of women on the same faith journey. Our ministry offers fellowship groups, Bible studies, a Celebration Weekend and more. The Bible studies are offered throughout the year with our main sessions offered in the spring and fall.
The O.W.L. ministry exists to connect our older, wiser & lively adults through fellowship opportunities and social events, both on campus and off-campus!